Local Trail Association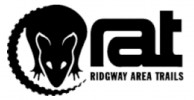 RAT
(
www.copmoba.com
)
Region Supporters & Maintainers
Region Details
About 60 miles of single track. Can park at several locations. In town of Ridgway there is a paved bike/walking path along the river the can get you to the trails. Is a fairly new system with several miles of new trail that were built in the last couple of year. More trails have been approved by the BLM. Main trails are located off of County Road 10. Has interlocking loops with the shorter closer loops being easier and they get more difficult as you go farther out. Lost of steep climbs, tech rocky stuff, fun gravity type trails. Pretty much something for everyone. While here, check out the trails at Dennis Weaver Park on the West side of Hwy 550. Short fun loops next to the Uncomphagre River. Real fun system and fantastic views. All right next to Ridgway State Park which has lots of camping options.
After a hard day of riding, might as well check out the Trail Town Distillery, Colorado Boy Brewery, and the Orvis Hot Springs which are all in Ridgway.
Recent Activity
username
action
type
title
date
Jrbhays
ridden
trail
Mickey's Tears and 5 more

Oct 21, 2016 @ 10:09am

Oct 21, 2016

Mdgtracer
add
ridelog
Aug 31, 2016 ride log

Aug 31, 2016 @ 5:30pm

Aug 31, 2016

grandvalleydave
add
ridelog
Aug 20, 2016 ride log

Aug 20, 2016 @ 10:32pm

Aug 20, 2016

grandvalleydave
ridden
trail
Rattus Maximus and 5 more

Aug 20, 2016 @ 9:21pm

Aug 20, 2016

grandvalleydave
wishlist
trail
Mickey's Tears and 1 more

Aug 20, 2016 @ 9:21pm

Aug 20, 2016
view more »
Stats
Avg Trail Rating

Trails

9

Total Distance

10.0 miles

Total Descent Distance

4.7 miles

Total Descent

2,154 ft

Highest Trailhead

1.4 miles

Total Vertical

640 ft

Reports

6

Ridden Counter

55
Updated on Tue 2016-10-18 @ 3:48pm
Submitted on Thu 2015-06-11 @ 10:21am
By brenthillier

TAP

NSMBA

Plus & contributors
Admins:

COPMOBA

#8990 - 438 views
Downloading of trail gps tracks in kml & gpx formats is enabled for Ridgway.