PHD Details
Difficulty rating

Double Black Diamond

Trail type

Singletrack

Bike type

DH, AM

Trail Usage

Biking Only

Direction

Downhill Only

Physical rating

Hard

TTFs on trail

Rock Face

Global Ranking
No description for PHD trail has been added yet! Submit one here.
Local Trail Association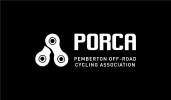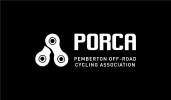 Pemberton Off-road Cycling Association
(
www.porcabikes.com
)
Please consider joining or donating to the local riding association to support trail development & maintenance.
donate to earn trail karma!
More Stats for
PHD mountain bike trail
Altitude change

-1,156 ft

Altitude min

1,217 ft

Altitude max

2,405 ft

Altitude start

2,386 ft

Altitude end

1,230 ft

Grade max

-46.485%

Grade min

23.878%

Distance climb

2,721 ft

Distance down

1.4 miles

Distance flat

190 ft

Avg time

00:39:44

view trail stats
update trails status or condition
PHD Trail Reports
date
description

Sep 20, 2016 @ 10:32am

Sep 20, 2016

reporter

Timber harvesting will impact PhD for the next several weeks. Avoid the trail during harvesting activities.

Sep 11, 2016 @ 9:56pm

Sep 11, 2016

Clear, a bit of dust on the lower part of the trail on the rocks. The rest is good.

Jun 5, 2016 @ 2:43pm

Jun 5, 2016

Dry but not dusty, great traction, only one tree down lower on the trail.

May 22, 2016 @ 10:30pm

May 22, 2016

Dry but not too dusty yet. Rock is grippy!

Apr 5, 2016 @ 10:18am

Apr 5, 2016

The bridge at the beginning of lower PHD it rotted out and not safe to walk on, it needs to be rebuilt. There is a tree across the trail shortly...
view all reports »
Trail Products
Reviews / Comments
No reviews yet, be the first to write a review or ask a question.
Use trail reports to comment on trail conditions.
Updated on Sat 2015-10-24 @ 9:54pm
Submitted on Sun 2014-09-21 @ 10:42pm
By canadaka Plus & contributors
#9901 - 2,152 views
login

to download gpx or kml files.