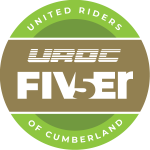 Description
The UROC virtual Fiver series continues with 3 more route options.
Sign up at https://unitedridersofcumberland.com/fiver-series/
Ride the trails to get the badge and feel good about supporting the trail network. All those who enter and collect a badge will be entered to win great prizes. Complete all 5 Fiver challenge rides and you'll be entered to win the grand prize courtesy of RaceFace.

Fiver challenge #2 will run from July 21st to August 5th

https://www.trailforks.com/goto/route/21494/

To earn the badge you must ride the 2 trails in the badge criteria.
Criteria
Activity

Single Ride

YES

Start Date

Tuesday July 21, 2020

End Date

Wednesday August 5, 2020

Ride Trails
Other Info
Participants

Awarded

111

Points

1
Badge Awarded To
time
username
ridelog

Aug 5, 2020 07:08 pm

Aug 5, 2020

ridelog

Aug 5, 2020 06:08 pm

Aug 5, 2020

ridelog

Aug 5, 2020 04:08 pm

Aug 5, 2020

ridelog

Aug 5, 2020 02:08 pm

Aug 5, 2020

ridelog

Aug 5, 2020 08:08 am

Aug 5, 2020

ridelog

Aug 4, 2020 08:08 pm

Aug 4, 2020

ridelog

Aug 4, 2020 04:08 pm

Aug 4, 2020

ridelog

Aug 4, 2020 02:08 pm

Aug 4, 2020

ridelog

Aug 4, 2020 12:08 pm

Aug 4, 2020

ridelog

Aug 3, 2020 07:08 pm

Aug 3, 2020

ridelog

Aug 3, 2020 07:08 pm

Aug 3, 2020

ridelog

Aug 3, 2020 06:08 pm

Aug 3, 2020

ridelog

Aug 3, 2020 05:08 pm

Aug 3, 2020

ridelog

Aug 3, 2020 01:08 pm

Aug 3, 2020

ridelog

Aug 3, 2020 01:08 pm

Aug 3, 2020

ridelog

Aug 3, 2020 01:08 pm

Aug 3, 2020

ridelog

Aug 3, 2020 11:08 am

Aug 3, 2020

ridelog

Aug 3, 2020 11:08 am

Aug 3, 2020

ridelog

Aug 3, 2020 11:08 am

Aug 3, 2020

ridelog

Aug 2, 2020 06:08 pm

Aug 2, 2020

ridelog

Aug 2, 2020 05:08 pm

Aug 2, 2020

ridelog

Aug 2, 2020 04:08 pm

Aug 2, 2020

ridelog

Aug 2, 2020 04:08 pm

Aug 2, 2020

ridelog

Aug 2, 2020 01:08 pm

Aug 2, 2020

ridelog

Aug 2, 2020 12:08 pm

Aug 2, 2020

ridelog

Aug 2, 2020 12:08 pm

Aug 2, 2020

ridelog

Aug 2, 2020 11:08 am

Aug 2, 2020

ridelog

Aug 2, 2020 06:08 am

Aug 2, 2020

ridelog

Aug 2, 2020 04:08 am

Aug 2, 2020

ridelog

Aug 1, 2020 06:08 pm

Aug 1, 2020

ridelog

Aug 1, 2020 05:08 pm

Aug 1, 2020

ridelog

Aug 1, 2020 05:08 pm

Aug 1, 2020

ridelog

Aug 1, 2020 04:08 pm

Aug 1, 2020

ridelog

Aug 1, 2020 01:08 pm

Aug 1, 2020

ridelog

Aug 1, 2020 12:08 pm

Aug 1, 2020

ridelog

Aug 1, 2020 11:08 am

Aug 1, 2020

ridelog

Jul 31, 2020 09:07 pm

Jul 31, 2020

ridelog

Jul 31, 2020 08:07 pm

Jul 31, 2020

ridelog

Jul 31, 2020 07:07 pm

Jul 31, 2020

ridelog

Jul 31, 2020 04:07 pm

Jul 31, 2020

ridelog

Jul 31, 2020 02:07 pm

Jul 31, 2020

ridelog

Jul 31, 2020 01:07 pm

Jul 31, 2020

ridelog

Jul 31, 2020 01:07 pm

Jul 31, 2020

ridelog

Jul 31, 2020 12:07 pm

Jul 31, 2020

ridelog

Jul 31, 2020 11:07 am

Jul 31, 2020

ridelog

Jul 31, 2020 08:07 am

Jul 31, 2020

ridelog

Jul 31, 2020 08:07 am

Jul 31, 2020

ridelog

Jul 31, 2020 08:07 am

Jul 31, 2020

ridelog

Jul 30, 2020 08:07 pm

Jul 30, 2020

ridelog

Jul 30, 2020 05:07 pm

Jul 30, 2020

ridelog