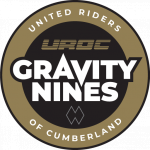 Badge no longer active!
Description
UROC has created this fun event to inspire and capture the love of descending. It's the thrill of going downhill that draws us to mountain biking. We've created 9 badges with 9 descents that need to be completed by Sunday, November 8th
This isn't a race and badges are not given based on how fast you go. Get all 9 badges and you're entered into a prize draw courtesy of Forbidden Bikes. You must be a UROC member to register. The Gravity Nines runs from October 22nd to November 11th

Register for the Gravity Nines series at

Line #4 is Bakers Dozen followed by Knuckers. Hold on tight when you hit Knuckers for some loose riding and sharp corners.
Criteria
Activity

Single Ride

YES

Start Date

Thursday October 22, 2020

End Date

Wednesday November 11, 2020

Ride Trails
Other Info
Participants

Awarded

50

Points

1
Badge Awarded To
time
username
ridelog

Nov 13, 2020 04:11 pm

Nov 13, 2020

ridelog

Nov 11, 2020 08:11 pm

Nov 11, 2020

ridelog

Nov 11, 2020 06:11 pm

Nov 11, 2020

ridelog

Nov 11, 2020 05:11 pm

Nov 11, 2020

ridelog

Nov 11, 2020 03:11 pm

Nov 11, 2020

ridelog

Nov 9, 2020 08:11 pm

Nov 9, 2020

ridelog

Nov 9, 2020 07:11 pm

Nov 9, 2020

ridelog

Nov 9, 2020 01:11 pm

Nov 9, 2020

ridelog

Nov 8, 2020 11:11 pm

Nov 8, 2020

ridelog

Nov 8, 2020 04:11 pm

Nov 8, 2020

ridelog

Nov 8, 2020 12:11 pm

Nov 8, 2020

ridelog

Nov 7, 2020 05:11 pm

Nov 7, 2020

ridelog

Nov 7, 2020 03:11 pm

Nov 7, 2020

ridelog

Nov 5, 2020 08:11 pm

Nov 5, 2020

ridelog

Nov 5, 2020 05:11 pm

Nov 5, 2020

ridelog

Nov 5, 2020 04:11 pm

Nov 5, 2020

ridelog

Nov 5, 2020 03:11 pm

Nov 5, 2020

ridelog

Nov 5, 2020 02:11 pm

Nov 5, 2020

ridelog

Nov 5, 2020 11:11 am

Nov 5, 2020

ridelog

Nov 4, 2020 03:11 pm

Nov 4, 2020

ridelog

Nov 2, 2020 11:11 am

Nov 2, 2020

ridelog

Nov 1, 2020 03:11 pm

Nov 1, 2020

ridelog

Nov 1, 2020 03:11 pm

Nov 1, 2020

ridelog

Nov 1, 2020 02:11 pm

Nov 1, 2020

ridelog

Nov 1, 2020 02:11 pm

Nov 1, 2020

ridelog

Nov 1, 2020 02:11 pm

Nov 1, 2020

ridelog

Oct 31, 2020 04:10 pm

Oct 31, 2020

ridelog

Oct 31, 2020 04:10 pm

Oct 31, 2020

ridelog

Oct 31, 2020 03:10 pm

Oct 31, 2020

ridelog

Oct 31, 2020 03:10 pm

Oct 31, 2020

ridelog

Oct 31, 2020 02:10 pm

Oct 31, 2020

ridelog

Oct 29, 2020 05:10 pm

Oct 29, 2020

ridelog

Oct 29, 2020 05:10 pm

Oct 29, 2020

ridelog

Oct 29, 2020 01:10 pm

Oct 29, 2020

ridelog

Oct 27, 2020 03:10 pm

Oct 27, 2020

ridelog

Oct 27, 2020 02:10 pm

Oct 27, 2020

ridelog

Oct 27, 2020 10:10 am

Oct 27, 2020

ridelog

Oct 27, 2020 08:10 am

Oct 27, 2020

ridelog

Oct 26, 2020 06:10 pm

Oct 26, 2020

ridelog

Oct 26, 2020 05:10 pm

Oct 26, 2020

ridelog

Oct 25, 2020 02:10 pm

Oct 25, 2020

ridelog

Oct 25, 2020 12:10 pm

Oct 25, 2020

ridelog

Oct 24, 2020 04:10 pm

Oct 24, 2020

ridelog

Oct 24, 2020 03:10 pm

Oct 24, 2020

ridelog

Oct 24, 2020 12:10 pm

Oct 24, 2020

ridelog

Oct 23, 2020 05:10 pm

Oct 23, 2020

ridelog

Oct 18, 2020 07:10 pm

Oct 18, 2020

ridelog

Oct 18, 2020 05:10 pm

Oct 18, 2020

ridelog

Oct 18, 2020 03:10 pm

Oct 18, 2020

ridelog

Oct 15, 2020 06:10 pm

Oct 15, 2020

ridelog