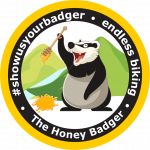 Badge no longer active!
Description
Endless Biking presents "The Honey Badger" as one of their four challenges in the 2021 NSMBA Social Badger Challenge!

In order to unlock, you must ride all of the trails in both the Fromme Badger and Seymour Badger badges as well as several more, all listed below, in a single ride!

Seymour Badger: Penny Lane, John Deer, Ridge Trail

Fromme Badger: Bobsled, Expresso, Lower Expresso

Additional trails: Bottletop, Camp Brick Bypass, Lower Richard Juryn Trail

"The Honey Badger just doesn't care, it just loves to ride! With the extra calories required, A real Honey Badger would want to fuel up on delicious things like Honey, Coffee and snacks available at local cafes and coffee shops along the way!

Double up and ride both mountains, but with a bit extra! Start down around Endless Biking (EB) and ride up into the LSCR and complete the Richard Juryn trail before heading to Mt. Seymour to start the journey of unlocking the Seymour, Fromme and Social Badgers, along the way!

Ride can be completed in any order and can be completed from Lynn Valley, or Mt. Seymour neighbourhoods but it will ride really well from closer to EB and it will allow for some cool stops along the way!

#showusyourbadger"

All NSMBA members who unlock the badge will be entered to win an awesome prize from Endless Biking.

Please note that while anyone can unlock the badges, you must be a NSMBA member to win prizes. Prize winners will be messaged through Trailforks by the NSMBA to verify membership.

If you have logged a ride and Trailforks is not picking up that you rode a certain trail(s), you can correct it by following the steps in this video: https://www.trailforks.com/help/view/115/.
Criteria
Activity

Single Ride

YES

Start Date

Sunday July 4, 2021

End Date

Saturday July 10, 2021

Ride Trails
Other Info
Participants

Awarded

30

Female: 4
Male: 16
Unknown: 10

Points

1
time
username
ridelog

Jul 11, 2021 11:07 am

Jul 11, 2021

ridelog

Jul 11, 2021 08:07 am

Jul 11, 2021

ridelog

Jul 10, 2021 11:07 pm

Jul 10, 2021

ridelog

Jul 10, 2021 10:07 pm

Jul 10, 2021

ridelog

Jul 10, 2021 09:07 pm

Jul 10, 2021

ridelog

Jul 10, 2021 08:07 pm

Jul 10, 2021

ridelog

Jul 10, 2021 06:07 pm

Jul 10, 2021

ridelog

Jul 10, 2021 05:07 pm

Jul 10, 2021

ridelog

Jul 10, 2021 04:07 pm

Jul 10, 2021

ridelog

Jul 9, 2021 07:07 pm

Jul 9, 2021

ridelog

Jul 9, 2021 06:07 pm

Jul 9, 2021

ridelog

Jul 9, 2021 05:07 pm

Jul 9, 2021

ridelog

Jul 9, 2021 03:07 pm

Jul 9, 2021

ridelog

Jul 8, 2021 10:07 pm

Jul 8, 2021

ridelog

Jul 8, 2021 09:07 pm

Jul 8, 2021

ridelog

Jul 8, 2021 08:07 pm

Jul 8, 2021

ridelog

Jul 7, 2021 09:07 pm

Jul 7, 2021

ridelog

Jul 7, 2021 07:07 pm

Jul 7, 2021

ridelog

Jul 7, 2021 04:07 pm

Jul 7, 2021

ridelog

Jul 7, 2021 11:07 am

Jul 7, 2021

ridelog

Jul 6, 2021 11:07 pm

Jul 6, 2021

ridelog

Jul 6, 2021 09:07 pm

Jul 6, 2021

ridelog

Jul 6, 2021 02:07 pm

Jul 6, 2021

ridelog

Jul 6, 2021 08:07 am

Jul 6, 2021

ridelog

Jul 5, 2021 11:07 pm

Jul 5, 2021

ridelog

Jul 5, 2021 03:07 pm

Jul 5, 2021

ridelog

Jul 5, 2021 11:07 am

Jul 5, 2021

ridelog

Jul 5, 2021 07:07 am

Jul 5, 2021

ridelog

Jul 4, 2021 05:07 pm

Jul 4, 2021

ridelog

Jul 4, 2021 03:07 pm

Jul 4, 2021

ridelog