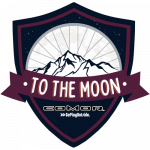 Badge no longer active!
Description
Comor Sports presents their "To the Moon" Badge in the 2021 NSMBA Social Badger Challenge!

In order to unlock, you must ride the following trails:

For the Kids, Skid Row Connector, Skid Row Ascent, Executioner Connector, Ramble on, D'Yer Maker.

You can use as many rides as you need to complete the challenge and speed is not a factor. Keep it chill, watch for other trail users and keep your local builders happy by braiding your hair, not the trails.

All NSMBA members who unlock the badge will be entered to win 2 awesome prizes from Comor Sports!

1. New set of Women's tires - Assegai front and DHR2
2. New set of Men's tires - Assegai front and DHR2

They will also have some limited edition stickers at their shop (available from Thursday onward), for anyone who completes the badge!

Please note that while anyone can unlock the badges, you must be a NSMBA member to be eligible to win any prizes.

If you have logged a ride and Trailforks is not picking up that you rode a certain trail(s), you can correct it by following the steps in this video: https://www.trailforks.com/help/view/115/.
Criteria
Activity

Start Date

Sunday July 11, 2021

End Date

Saturday July 17, 2021

Ride Trails
Other Info
Participants

Awarded

100

Female: 12
Male: 56
Unknown: 32

Points

1
time
username
ridelog

Jul 18, 2021 11:07 pm

Jul 18, 2021

ridelog

Jul 17, 2021 11:07 pm

Jul 17, 2021

ridelog

Jul 17, 2021 08:07 pm

Jul 17, 2021

ridelog

Jul 17, 2021 06:07 pm

Jul 17, 2021

ridelog

Jul 17, 2021 06:07 pm

Jul 17, 2021

ridelog

Jul 17, 2021 06:07 pm

Jul 17, 2021

ridelog

Jul 17, 2021 05:07 pm

Jul 17, 2021

ridelog

Jul 17, 2021 03:07 pm

Jul 17, 2021

ridelog

Jul 17, 2021 02:07 pm

Jul 17, 2021

ridelog

Jul 17, 2021 01:07 pm

Jul 17, 2021

ridelog

Jul 17, 2021 01:07 pm

Jul 17, 2021

ridelog

Jul 17, 2021 01:07 pm

Jul 17, 2021

ridelog

Jul 17, 2021 01:07 pm

Jul 17, 2021

ridelog

Jul 17, 2021 12:07 pm

Jul 17, 2021

ridelog

Jul 17, 2021 12:07 pm

Jul 17, 2021

ridelog

Jul 17, 2021 12:07 pm

Jul 17, 2021

ridelog

Jul 17, 2021 11:07 am

Jul 17, 2021

ridelog

Jul 17, 2021 11:07 am

Jul 17, 2021

ridelog

Jul 17, 2021 11:07 am

Jul 17, 2021

ridelog

Jul 17, 2021 11:07 am

Jul 17, 2021

ridelog

Jul 17, 2021 11:07 am

Jul 17, 2021

ridelog

Jul 17, 2021 11:07 am

Jul 17, 2021

ridelog

Jul 17, 2021 10:07 am

Jul 17, 2021

ridelog

Jul 17, 2021 10:07 am

Jul 17, 2021

ridelog

Jul 17, 2021 09:07 am

Jul 17, 2021

ridelog

Jul 16, 2021 09:07 pm

Jul 16, 2021

ridelog

Jul 16, 2021 09:07 pm

Jul 16, 2021

ridelog

Jul 16, 2021 08:07 pm

Jul 16, 2021

ridelog

Jul 16, 2021 06:07 pm

Jul 16, 2021

ridelog

Jul 16, 2021 06:07 pm

Jul 16, 2021

ridelog

Jul 16, 2021 02:07 pm

Jul 16, 2021

ridelog

Jul 16, 2021 01:07 pm

Jul 16, 2021

ridelog

Jul 16, 2021 01:07 pm

Jul 16, 2021

ridelog

Jul 16, 2021 12:07 pm

Jul 16, 2021

ridelog

Jul 16, 2021 12:07 pm

Jul 16, 2021

ridelog

Jul 16, 2021 08:07 am

Jul 16, 2021

ridelog

Jul 15, 2021 10:07 pm

Jul 15, 2021

ridelog

Jul 15, 2021 09:07 pm

Jul 15, 2021

ridelog

Jul 15, 2021 09:07 pm

Jul 15, 2021

ridelog

Jul 15, 2021 08:07 pm

Jul 15, 2021

ridelog

Jul 15, 2021 07:07 pm

Jul 15, 2021

ridelog

Jul 15, 2021 07:07 pm

Jul 15, 2021

ridelog

Jul 15, 2021 07:07 pm

Jul 15, 2021

ridelog

Jul 15, 2021 07:07 pm

Jul 15, 2021

ridelog

Jul 15, 2021 07:07 pm

Jul 15, 2021

ridelog

Jul 15, 2021 06:07 pm

Jul 15, 2021

ridelog

Jul 15, 2021 04:07 pm

Jul 15, 2021

ridelog

Jul 15, 2021 03:07 pm

Jul 15, 2021

ridelog

Jul 15, 2021 02:07 pm

Jul 15, 2021

ridelog

Jul 15, 2021 11:07 am

Jul 15, 2021

ridelog