Top 10 Ridden Canadian Cities of Summer 2017
Using the Trailforks ridelog feature we are able to see which regions are being ridden the most and when. We've queried the database to find the top ridden biking cities for the months of July, August and September of 2017. Since Trailforks started in and is based out of British Columbia it tends to dominate a lot of these "top lists" when included. But we do have the best riding in the world here...
The top three spots are no big surprise, unless you live under a rock! But four and five might surprise some. While not high on most peoples list for mountain bike destinations, both cities have large active urban trail networks that see a lot of local usage.
You can make sure your rides are counted by either
connecting your Strava
account with Trailforks, or by recording your rides using the new tracking feature in the
Trailforks app
! The more people logging their rides to Trailforks the more accurate this data becomes for these fun lists, but more importantly for trail association advocacy use.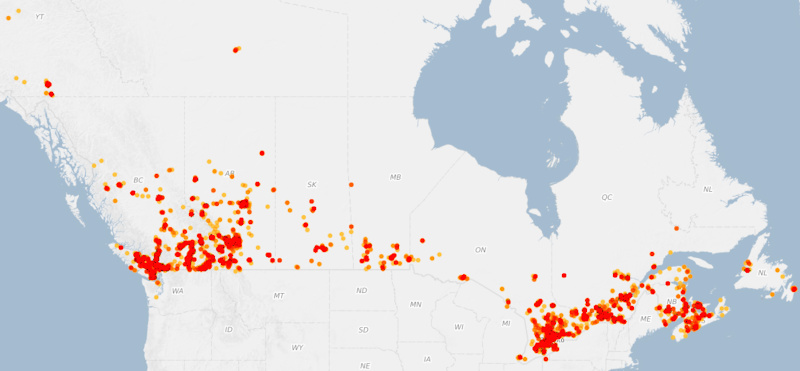 B.C. dominates the Canadian ride data, which is no big surprise—it has the mountains and the best trails. It sometimes seems like all of Quebec's mountain bikers now live in the Sea to Sky corridor (Vancouver to Whistler).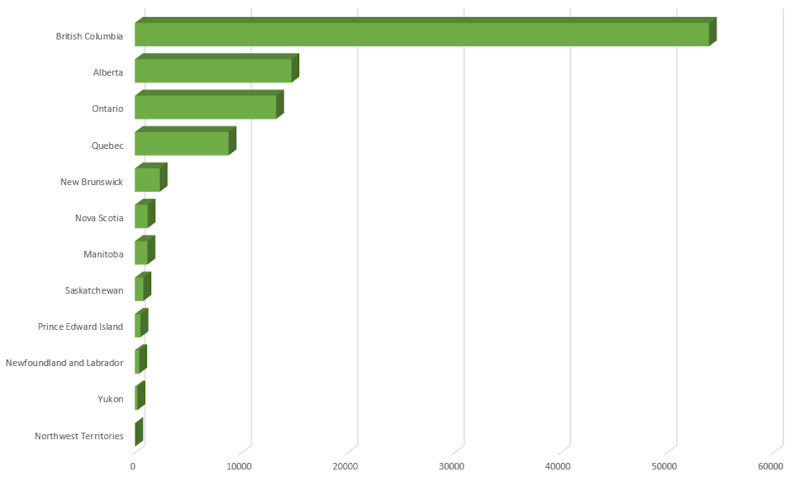 1. Whistler, British Columbia
Whistler is defined by riding, whether it's a family cruise along the Valley Trail, a high-velocity road ride on the Sea to Sky Highway, a sweet descent through the trees in the Whistler Bike Park or any other epic Whistler trail. If you like biking you belong in Whistler.
Whistler mountain biking trails
2. North Vancouver, British Columbia
In the international sport of mountain biking, the North Shore has a well-deserved reputation for world-class riding. The steep slopes that frame the city are woven with a network of trails that offer everything from an easy outing on a rolling path to cross-country and extreme downhill.
North Vancouver mountain biking trails
3. Squamish, British Columbia
Squamish offers a huge variety of trails for mountain bikers of any experience level. Situated in a valley with surrounding mountains there are endless kilometers of mountain biking trails. From gentle cruises in the estuary and friendly cross country trail to hairball downhill descents. No matter your skill level, you will not run out of satisfying single-track in this town.
Squamish mountain biking trails
4. Calgary, Alberta
Calgary riding areas include 12 Mile Coulee, Bowmont, Eastlands and Nose Hill in the NW, Fish Creek Park in the SE/SW and a smattering of singletrack elsewhere in the city. Lift accessed riding is available at Canada Olympic Park.
Outside of Calgary, the Kananaskis Country area has hundreds of km of trails.
Calgary mountain biking trails
5. Edmonton, Alberta
Edmonton's River Valley is the largest urban park in North America. We may not have any mountains, but our singletrack network is extensive. A little bit of local knowledge and route finding is key to linking our short but sweet trails into epic rides. Hidden gems are everywhere if you know where to look.
Edmonton mountain biking trails
6. Bragg Creek, Alberta
From 2011 to 2015 over 44 kilometres of intermediate, fast, and flowy all-season singletrack trails were built in the West Bragg Creek area by the Greater Bragg Creek Trails Association; a purely volunteer group of Bragg Creek residents that are working hard to design, build and maintain trails and pathways for the benefit of residents and visitors of Bragg Creek.
Bragg Creek mountain biking trails
7. Fernie, British Columbia
Fernie's legendary terrain continues to bring bike enthusiasts back again and again. Fernie boasts some of the best riding in the Rockies—from epic heart-pounding downhill rides to endless kilometres of cross-country trails, you can do it all here. Take the lift and ride the bike park at FAR or explore the network of trails in and around town for a few days.
Fernie mountain biking trails
8. Cumberland, British Columbia
Nestled in the foothills of the Beaufort Range beneath the shadow of the Comox Glacier, the historic Village of Cumberland invites you to come experience our rich history and our bright future! The mix of mining and logging history has led to a vast network of old roads that are now intermixed with an ample amount of singletrack.
Cumberland mountain biking trails
9. Victoria, British Columbia
Victoria's riding jewel is Hartland (affectionately referred to as "The Dump"). Extensive amounts of work have gone into proper trail building here and the riding is awesome. Variety is the key word. There is everything for every rider, including club activites and theme rides.
Victoria mountain biking trails
10. Vernon, British Columbia
Old growth, to desert and throw in some of the most beautiful lakes in BC and one of the best bike parks in the world. Vernon really does have a magical mountain bike vacation to offer. You are probably coming to town to check out the XC and DH at Silverstar but staying to enjoy the trails in Kalamalka and Ellison Provincal Parks is a must when you can ride to the lake.
Vernon mountain biking trails
Since B.C. dominated this list, here are the top 10 ridden cities in Canada excluding B.C.
Calgary, Alberta – 3532
Edmonton, Alberta – 3236
Bragg Creek, Alberta – 2456
Toronto, Ontario – 1740
Canmore, Alberta – 1672
Fredericton, New Brunswick – 1313
Milton, Ontario – 953
Bromont, Quebec – 911
Lac Beauport, Quebec – 776
Uxbridge, Ontario – 712
Next, we will discuss the top 10 European cities.
The query for you geeks!
SELECT region.rid, region.title, region.alias, p.title AS prov_title, tr.description, COUNT(*) AS total
FROM wostrailforks.ridelog r
JOIN wostrailforks.ridelog_index i ON r.id=i.nid
JOIN wostrailforks.region ON i.city=region.rid
JOIN wostrailforks.region p ON i.prov=p.rid
JOIN wostrailforks.region_text tr ON region.rid=tr.rid
WHERE YEAR(FROM_UNIXTIME(r.created)) = '2017' AND MONTH(FROM_UNIXTIME(r.created)) IN (7,8,9) AND i.country='3000' AND i.city>0
GROUP BY i.city
ORDER BY total DESC
LIMIT 10