US Land Owner Data on Trailforks
Trailforks has some cool new features utilizing land owner data. We've been splicing & dicing various shapefiles from a variety of sources to build our land owner polygon database. We are adding land owner boundaries that are most relevant to mountain biking. We already show some of these faintly on our
basemap
, this new data is viewed optionally as a new map layer.
OpenStreetMap (OSM) does have some land ownership data, but it is not normalized across countries. This is our attempt to do so, in the scope of trails.
One of the most important pieces of the mountain biking puzzle is the land. Who owns the land or has direct stewardship of it is important when these common questions come up.
1) Can I go here?
2) Can I ride here?
3) Can I camp here?
4) Can I build a trail here?
5) Can I plan a race here?
6) WHO do I talk to about this area when I want to do any of the above?
7) WHO do I thank for making this land available?
The map clearly highlights in dark green the wilderness areas that biking is currently not permitted in the US. The
Sustainable Trails Coalition
is working to reverse this ban. This new overlap shows where current trails in relation to these wilderness areas and how they skirt the boundaries.
Wilderness (typically no bikes in USA)
BLM (public)
USFS (parks, 2 different shade greens. Wildlife sanctuaries darker than usfs)
State land
Indigenous
Military
Land Owners
Trailforks servers will routinely scan our entire trail database automatically identifying trails within or that intersect major land owners such as the US BLM, USFS, wilderness areas, native lands, BC Parks. Over time we will add more land owner data and grow outside the US.
Trails will automatically be tagged with the land manager info when viewing a trails details.
Along with the map overlay, we also have landmanager trail pages, that give a summary of all the trails within their lands. You can view a map & lists of trails, see the top trails & routes along with other statistics.
These pages also highlight some land owner statistics.
Riders
For the most part a rider out on a common trail with a designated trailhead does not take note of where they are riding, and for the most part, they don't know or care. For this reason, the land ownership layer we do not enable by default. But when that rider decides to pull his travel trailer to a trail system that is not well known, or packs up his tent and intends to find camping as close to the trails as possible, a layer like this becomes invaluable. It is one thing to know which trails are on BLM land, but only a polygon layer will give you the important information, like where can I setup camp. I recently used this prototype layer on a trip out to
Vernal Utah
. And as you can see, knowing that you can camp on a remote dirt road is one thing, getting stuck in the sand with nobody in site is another. This is why on our basemap the road I got stuck on is shown in the lightest brown as it is not a graded road suitable for a camper.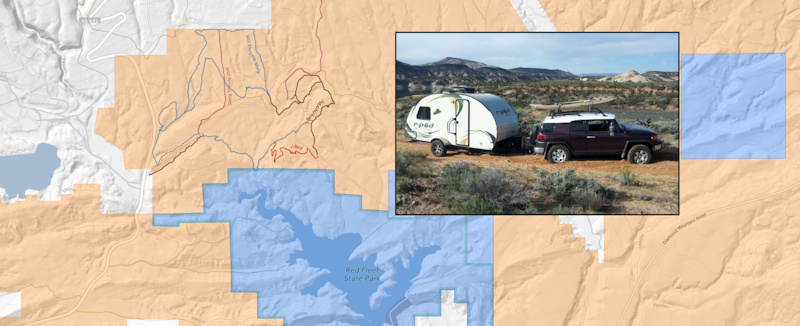 Moab as the MTB trails wrap around Arches National Park are built almost entirely on BLM land but pass through the occasional SITLA (State Owned) areas. You can also see why you have to pay to camp at the Gemini Bridges trailhead as it is one of the few private areas outside Moab City limits, but free camping is all over the place thanks to BLM and State Lands.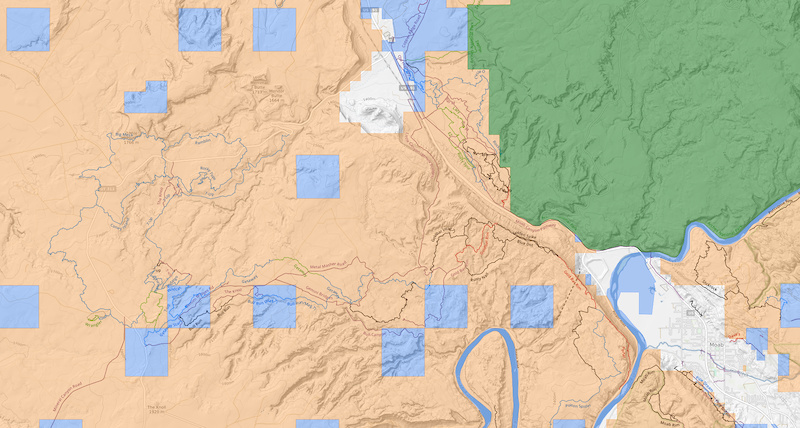 Land Conservation
A current Hot Topic for outdoor enthusiasts and land conservation advocates is designated Wilderness in the US. Discussions in this area are wide and varied. Depending on what your outdoor interest is and where you live has a massive impact on your personal stance. What we hope to accomplish with this layer is to show where all the mountain bike trails currently reside in relation to these wilderness area. Some of these areas are very remote and have seemingly no bearing on mountain bike trails. An example of a location where Wilderness areas play a large part is
Sedona Arizona
.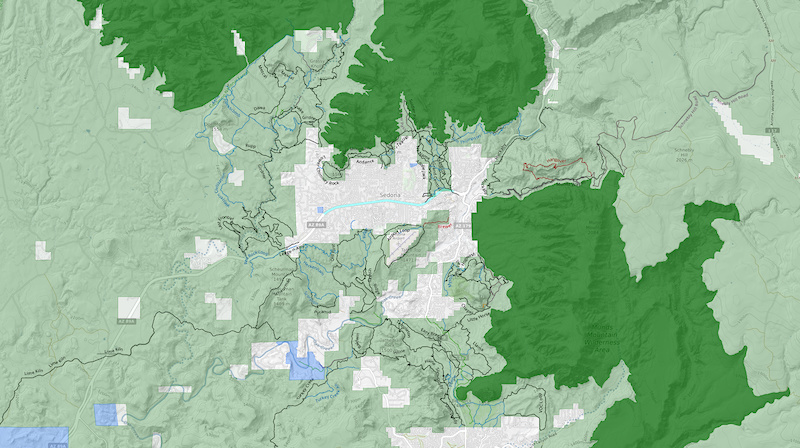 Sedona trails on Coconino Forest Land skirts the Wilderness areas on every front
Builders
Being able to view all the current trails in relation to land owner boundaries is a useful tool for planning where future trails might be built. Related to the land ownership is another new feature to add planned or proposed trails. Planners can draw in the trail using the land owner layer as a guide. These planned trails show on the map as faint thin lines and can be marked hidden or public. They can also be
password protected
when hidden, so a builder can send a link to a land manager with the trail plan.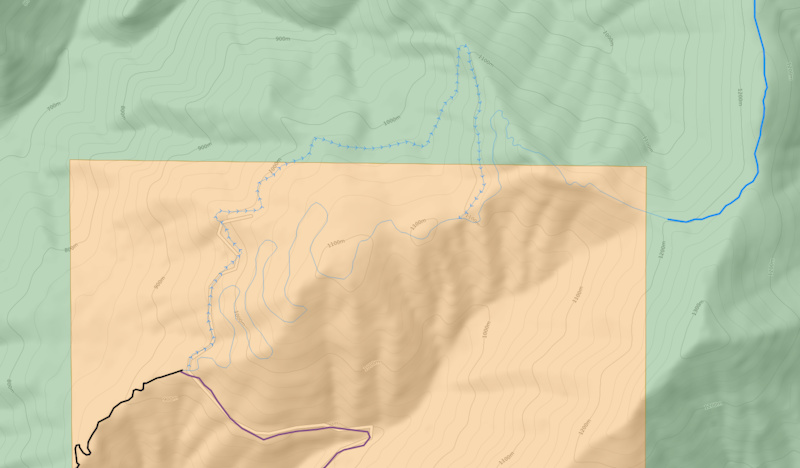 Example 2 proposed trails in light blue.
---
A big thanks to these large land owners like the BLM & USFS for allowing and supporting mountain bike trails on their lands!
@blm @usfs @SustainableTrailsCoalition