No description for Continental Divide Trail (CDT) Complete route has been added yet! Submit one here.
Detailed Description
Continental Divide Trail (CDT) Complete is a 2,989 mile moderately popular expert route located near Montana. This hike primary route can be used both directions and has a hard overall physical rating. This route includes 225 trails. This route climbs 430,276 ft with a max elevation of 14,256 ft then descends -430,315 ft.
Local Trail Association


International Mountain Bicycling Association (IMBA)
(
www.imba.com
)
Please consider joining or donating to the local riding association to support trail development & maintenance.
donate to earn trail karma!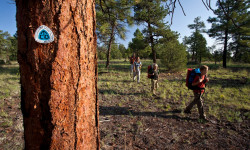 93 Reviews & Comments
We hope you've been enjoying Trailforks!
Create a FREE account to view route comments and much more.
Trails in Route
3 miles
20 miles
21 miles
16 miles
3 miles
8 miles
20 miles
11 miles
2 miles
5 miles
10 miles
10 miles
2 miles
1,014 ft
12 miles
13 miles
2 miles
4 miles
9 miles
7 miles
5 miles
7 miles
8 miles
3 miles
2 miles
5 miles
20 miles
7 miles
1,503 ft
18 miles
5,138 ft
11 miles
16 miles
24 miles
17 miles
2 miles
17 miles
12 miles
10 miles
8 miles
1 mile
4 miles
16 miles
6 miles
4 miles
2 miles
3,179 ft
2 miles
7 miles
3 miles
531 ft
10 miles
1 mile
7 miles
1 mile
5,276 ft
315 ft
1 mile
1,834 ft
2 miles
5 miles
15 miles
4 miles
9 miles
1 mile
11 miles
13 miles
10 miles
3 miles
4 miles
1,050 ft
3,015 ft
15 miles
2 miles
2 miles
7 miles
3 miles
1,089 ft
3 miles
6 miles
2 miles
2 miles
2 miles
2 miles
2 miles
3 miles
4 miles
5 miles
6 miles
7 miles
5 miles
1 mile
7 miles
12 miles
9 miles
2,595 ft
2 miles
3 miles
4 miles
15 miles
1 mile
4 miles
17 miles
5 miles
4 miles
16 miles
13 miles
2,060 ft
4 miles
29 miles
1 mile
42 miles
3,136 ft
11 miles
3 miles
4,882 ft
1 mile
7 miles
7 miles
3 miles
4,039 ft
682 ft
1,476 ft
15 miles
8 miles
15 miles
5 miles
3 miles
3,451 ft
2 miles
8 miles
9 miles
13 miles
1 mile
24 miles
7 miles
8 miles
4 miles
3 miles
10 miles
2 miles
3 miles
4 miles
4 miles
1 mile
4 miles
4 miles
5 miles
11 miles
7 miles
6 miles
1,063 ft
13 miles
9 miles
758 ft
10 miles
7 miles
6 miles
8 miles
8 miles
5 miles
3 miles
5 miles
4 miles
3,205 ft
4,327 ft
6 miles
4 miles
6 miles
371 ft
7 miles
7 miles
4 miles
6 miles
23 miles
4 miles
4 miles
2,523 ft
3 miles
3 miles
3 miles
7 miles
3,415 ft
6 miles
7 miles
11 miles