Cop DH Course Details
Riding Area

Difficulty Rating

Trail Type

Singletrack

Bike Type

DH, AM

Trail Usage

Biking Primary

Direction

Downhill Primary

Dogs Allowed

Yes

eBike Allowed

TTFs on Trail

Berm, Drop, Jump, Gap Jump, Rock Face

Global Ranking

#

27386

in Mountain Biking

Local Popularity

5

in Mountain Biking

[+]

5

in E-Biking

5

in Trail Running

5

in Hiking
Downhill course at C.O.P. Expect jumps, drops and rock gardens. Rated double black on the trail map but is more like a black.
Access Info
From the top of the lift ride down until you see the sign, it's well marked and is on your right.
This trail is missing GPS data, you can help by uploading a GPS track of Cop DH Course here.
update trails status or condition
Cop DH Course Trail Reports
no reports have been added for Cop DH Course yet,
add a trail report
.
Trail reports are used to indicate a trails current condition and inform builders and other riders about any issues on a trail.
PB News Articles
Dec 14, 2004
Group Personal Training
Are you still procrastinating over getting to the gym to get ready for next biking season? Are you in spin classes already but are wondering what...
Aug 12, 2004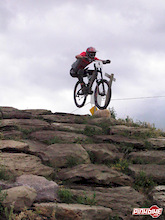 Canada Cup Results
Last weekend Calgary hosted the lastest Canada Cup races at Canada Olympic Park. Read on for a complete list of results.
Check out...
Reviews / Comments
No reviews yet, be the first to write a review or ask a question.
Use trail reports to comment on trail conditions.
By

Evan-Mtb-4

&

contributors

#54148 - 1,224 views
login

to download gpx or kml files.