Trailforks Route Planner
Completely rebuilt for speed and ease of use, create your perfect route!
Trailforks Route Planner
The Trailforks route planner strives to be the best and most flexible route planner for biking, hiking and other outdoor sports. All using the trail data currated on Trailforks.
The route planner allows creating a route with a mixture of auto-routing, freehand drawing, uploading a GPX and manually editing GPS points. The route planner also allows you to create an entire custom map for your route with POIs, polygons, lines and colored sections. It then generates turn-by-turn directions, surface type breakdown, trail list, snapping of messy GPS traces to the trails and more!
The Trailforks route planner is unique compared to other route creation tools in that it's not solely based on OSM data and allows you to create a route anywhere on the map quickly using a variety of methods.
Watch the Demonstration Video
To get a better understanding of how the Route Planner works check out this in-depth video.
Features
Create your perfect route with a combination of clicking points to route between them, dragging the last blue routing point to free-hand draw anywhere, or edit the raw GPS points for complete fine control.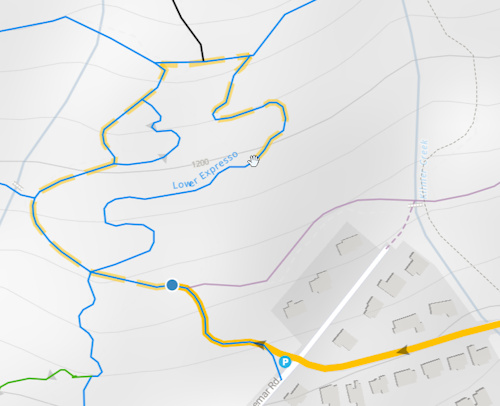 Hover your mouse over trails and roads to preview what the auto-routing will create visualized by a dashed line.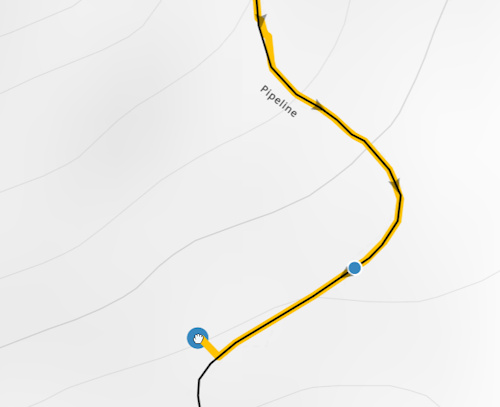 While dragging a blue routing point to freehand draw, the line will snap to the nearby trail or road. Power users can use hotkeys to either force snapping to the current trail, or ignore any snapping.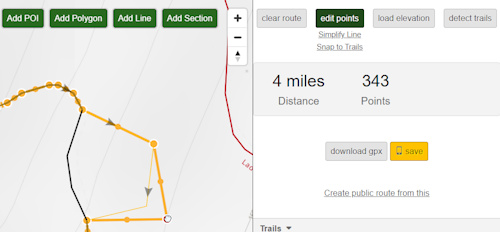 Edit, delete and add the raw GPS points for complete control.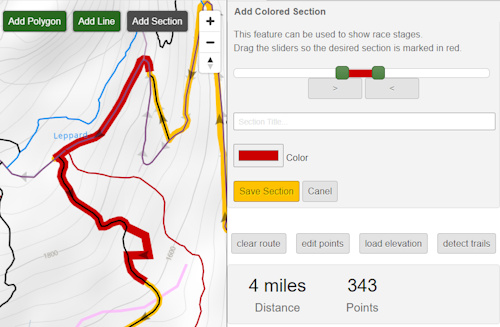 Add colored sections to the route, perfect for showing race stages or sections of a large multi-day hike.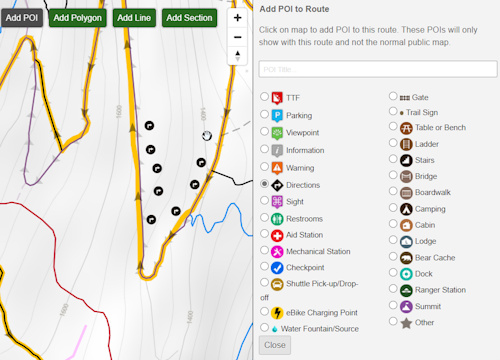 Add POIs to your route with custom title.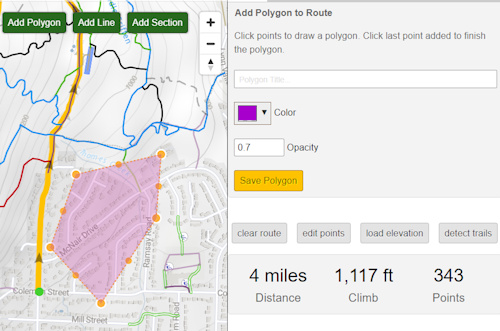 Add polygons to the route, with custom color, opacity and title.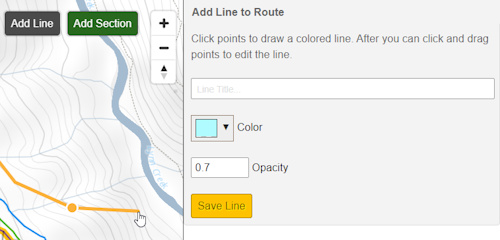 Add other lines to the route, showing optional routes.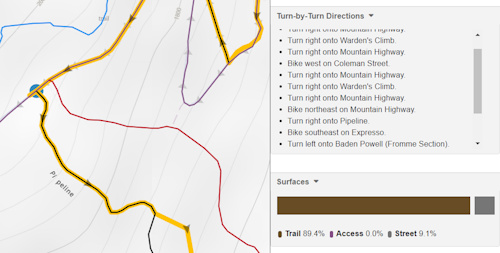 Detailed turn-by-turn directions and surface types are generated for the route.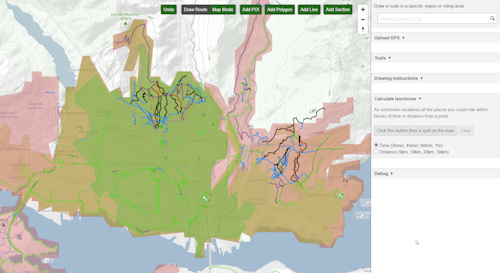 An isochrone visualizes all the places you could ride within blocks of time or distance from a point.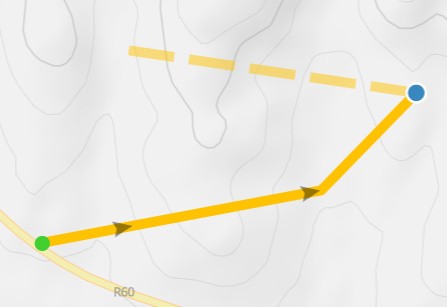 Hold ALT to ignore auto-routing and draw a straight line between points.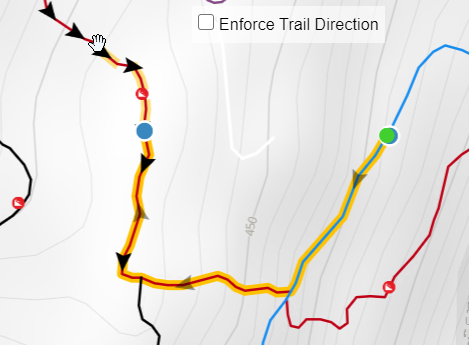 Disable auto-routing enforcement of trail direction, to route any direction you want.
Snap GPX Track to Map
Snap messy GPS tracks (GPX,KML) to the Trailforks map. Option to simplify line.
Draw to Bypass a Routing Network Issue
Example of mixing auto-routing and freehand-drawing where a trail is not connected in the routing network.
Route Planner Selecting Method
When in selecting mode the trail & road segments that are selectable have a pink glow. The glow increases when you mouse over showing the extend of that segment.
Segments should align in the correct orientation, if the 2 segments are perfectly connected it should know which way to "flip" them. For segments farther away it will flip to use the orientation closest to the end point of the route. But like before there is a flip button to flip the direction of the last selected segment.
Tech Details
The route planner is a mix of Trailforks trails and OSM roads that automatically gets updated every 2 days.

This world-wide update process involves separating the world into 27 routing areas. We do this to reduce the time it takes to generate the routing data and keep memory usage under control. We first make sure all the trails are snapped and segmented into edges for a routing area, then the data is combined with OSM roads. Since we are having to update our routing often, we are not including all OSM data everywhere, only roads within 10km of a trail are included. If we included all OSM roads, it could easily take 24 hours to update. The data is then converted into a format that our Valhalla routing server uses.