Trailforks For Garmin Devices
Garmin Edge Integration
This is the best experience!
Trailforks partnered with Garmin to integrate Trailforks data into a custom MTB map & features on select Garmin Edge devices.
The Garmin Edge 530, Edge 830 and Edge 1030 Plus offer the integrated Trailforks features.
These Edge devices include a custom Garmin basemap with routable worldwide MTB trail data. Trailforks POIs are also included.
Trail search from the Garmin menu, to find a trail on device.
Forksight mode - automatically displays upcoming forks in the trail and gives you context by showing where you are within a trail network.
These devices also come with the Trailforks Connect IQ app re-installed.
Consider supporting your local bike shop and ordering a Garmin Edge through them, or find online.
* Trailforks Pro is NOT required
Garmin Connect IQ App
You can install the free Trailforks app on supported Garmin Edge & watch devices.
This app makes it easy to transfer a route or trail from the Trailforks website or mobile app to your Garmin device. To then load that route into the Garmin turn-by-turn navigation system.
Download Trailforks Garmin app
Garmin Watch Support
(Fenix & Forerunner)
The Trailforks CIQ app now supports Fenix & Forerunner watches!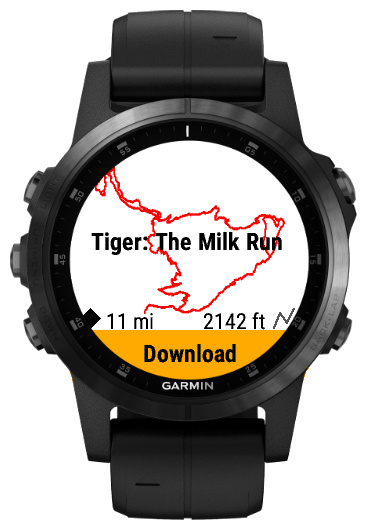 * Trailforks Pro is NOT required
Custom Garmin Basemaps
These downloadable map files represent a mashup of OpenStreetMap data overlayed with Trailforks trails and some useful POIs (Parking, TTF, and Bike Shops). Each region is compiled into Garmin's native basemap IMG format. This enables the map to contain thousands of trails using our custom theme. These maps should work on any Garmin device that supports custom basemaps.
Download Garmin maps
Day Theme

Night Theme
Our custom Garmin basemaps are not free, you require Trailforks Pro or enough Trail Karma.