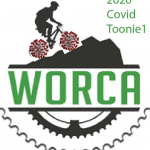 Badge no longer active!
Description
WORCA's First Virtual Toonie! Yeah!

Badge earners - random draw prize Saturday 5/30 following ride window close.

Please practice social distancing, ride using caution, take it easy! This is not a timed competition but a route for you to safely enjoy and possibly win a prize!
Criteria
Activity

Start Date

Monday May 25, 2020

End Date

Friday May 29, 2020

Trail Count

3

Ride Trails
Other Info
Participants

Awarded

154

Points

1

Featured
Badge Awarded To
time
username
ridelog

May 30, 2020 12:05 pm

May 30, 2020

ridelog

May 29, 2020 02:05 pm

May 29, 2020

ridelog

May 29, 2020 01:05 pm

May 29, 2020

ridelog

May 29, 2020 01:05 pm

May 29, 2020

ridelog

May 29, 2020 01:05 pm

May 29, 2020

ridelog

May 29, 2020 01:05 pm

May 29, 2020

ridelog

May 29, 2020 01:05 pm

May 29, 2020

ridelog

May 29, 2020 12:05 pm

May 29, 2020

ridelog

May 29, 2020 12:05 pm

May 29, 2020

ridelog

May 29, 2020 11:05 am

May 29, 2020

ridelog

May 29, 2020 11:05 am

May 29, 2020

ridelog

May 29, 2020 11:05 am

May 29, 2020

ridelog

May 29, 2020 11:05 am

May 29, 2020

ridelog

May 29, 2020 11:05 am

May 29, 2020

ridelog

May 29, 2020 10:05 am

May 29, 2020

ridelog

May 29, 2020 10:05 am

May 29, 2020

ridelog

May 29, 2020 09:05 am

May 29, 2020

ridelog

May 28, 2020 09:05 pm

May 28, 2020

ridelog

May 28, 2020 09:05 pm

May 28, 2020

ridelog

May 28, 2020 09:05 pm

May 28, 2020

ridelog

May 28, 2020 07:05 pm

May 28, 2020

ridelog

May 28, 2020 07:05 pm

May 28, 2020

ridelog

May 28, 2020 07:05 pm

May 28, 2020

ridelog

May 28, 2020 07:05 pm

May 28, 2020

ridelog

May 28, 2020 06:05 pm

May 28, 2020

ridelog

May 28, 2020 06:05 pm

May 28, 2020

ridelog

May 28, 2020 06:05 pm

May 28, 2020

ridelog

May 28, 2020 06:05 pm

May 28, 2020

ridelog

May 28, 2020 06:05 pm

May 28, 2020

ridelog

May 28, 2020 04:05 pm

May 28, 2020

ridelog

May 28, 2020 04:05 pm

May 28, 2020

ridelog

May 28, 2020 04:05 pm

May 28, 2020

ridelog

May 28, 2020 04:05 pm

May 28, 2020

ridelog

May 28, 2020 04:05 pm

May 28, 2020

ridelog

May 28, 2020 03:05 pm

May 28, 2020

ridelog

May 28, 2020 02:05 pm

May 28, 2020

ridelog

May 28, 2020 02:05 pm

May 28, 2020

ridelog

May 28, 2020 01:05 pm

May 28, 2020

ridelog

May 28, 2020 12:05 pm

May 28, 2020

ridelog

May 28, 2020 11:05 am

May 28, 2020

ridelog

May 28, 2020 11:05 am

May 28, 2020

ridelog

May 28, 2020 11:05 am

May 28, 2020

ridelog

May 28, 2020 09:05 am

May 28, 2020

ridelog

May 28, 2020 08:05 am

May 28, 2020

ridelog

May 28, 2020 08:05 am

May 28, 2020

ridelog

May 28, 2020 07:05 am

May 28, 2020

ridelog

May 28, 2020 07:05 am

May 28, 2020

ridelog

May 28, 2020 06:05 am

May 28, 2020

ridelog

May 27, 2020 10:05 pm

May 27, 2020

ridelog

May 27, 2020 09:05 pm

May 27, 2020

ridelog