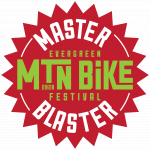 Badge no longer active!
Description
The Evergreen #RideLocal Contest is challenging you to find your local trails and complete a series of rides representative of the trails offered at the world famous Duthie Hill Mountain Bike Park built by Evergreen Mountain Bike Alliance in Issaquah, Washington.

Our 2020 Bike Festival was cancelled this year at Duthie but we think you should still ride AND get the chance to win some great gear from our industry partners!

Riders will need to register for the contest with a Trail Forks username, and are highly encouraged to become a member of Evergreen to qualify for the prize drawings. Registered participants who earn at least one of 5 badges will be automatically entered into the weekly drawing.
Criteria
Activity

Single Ride

YES

Start Date

Saturday June 6, 2020

End Date

Sunday July 5, 2020

Distance

15 miles
Other Info
Participants

Awarded

4,279

Female: 183
Male: 1,881
Unknown: 2,213

Contest Awarded

323

Points

1

Repeatable

YES

Featured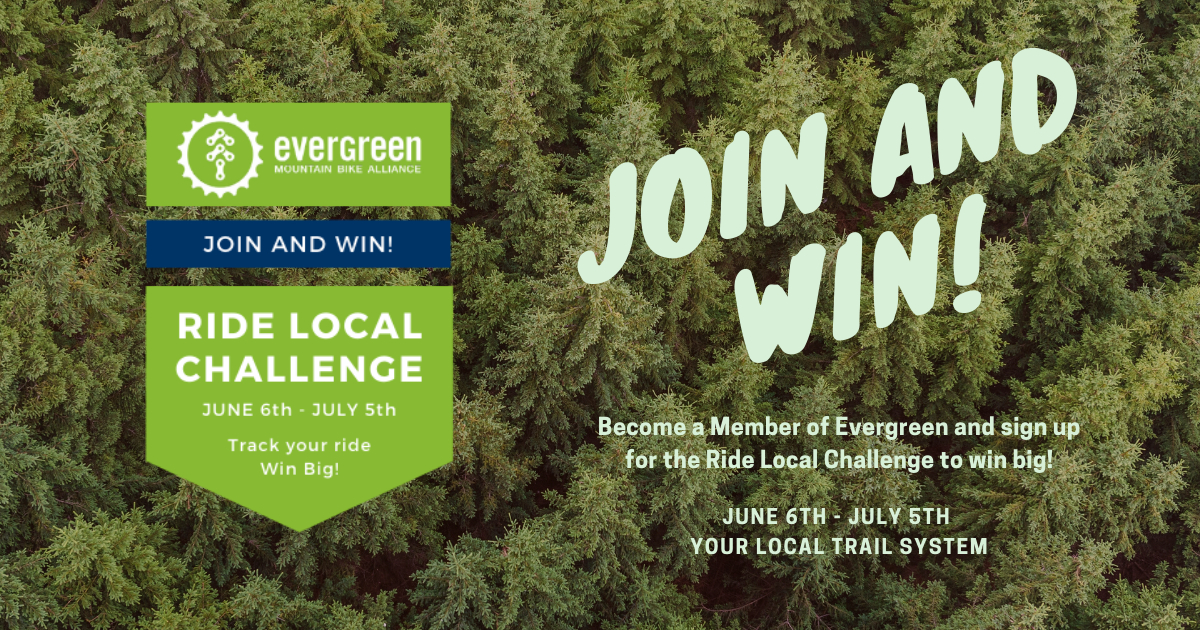 This badge is connected to a contest.
Badge Awarded To
time
username
ridelog
total

Jul 11, 2020 04:07 am

Jul 11, 2020

ridelog
1 badges

Jul 11, 2020 04:07 am

Jul 11, 2020

ridelog
1 badges

Jul 11, 2020 04:07 am

Jul 11, 2020

ridelog
3 badges

Jul 10, 2020 05:07 pm

Jul 10, 2020

ridelog
1 badges

Jul 10, 2020 05:07 am

Jul 10, 2020

ridelog
3 badges

Jul 10, 2020 04:07 am

Jul 10, 2020

ridelog
1 badges

Jul 8, 2020 06:07 pm

Jul 8, 2020

ridelog
1 badges

Jul 8, 2020 03:07 pm

Jul 8, 2020

ridelog
1 badges

Jul 7, 2020 04:07 pm

Jul 7, 2020

ridelog
1 badges

Jul 7, 2020 02:07 pm

Jul 7, 2020

ridelog
1 badges

Jul 7, 2020 02:07 pm

Jul 7, 2020

ridelog
1 badges

Jul 6, 2020 01:07 pm

Jul 6, 2020

ridelog
1 badges

Jul 6, 2020 01:07 pm

Jul 6, 2020

ridelog
1 badges

Jul 6, 2020 09:07 am

Jul 6, 2020

ridelog
1 badges

Jul 5, 2020 08:07 pm

Jul 5, 2020

ridelog
1 badges

Jul 5, 2020 06:07 pm

Jul 5, 2020

ridelog
1 badges

Jul 5, 2020 06:07 pm

Jul 5, 2020

ridelog
1 badges

Jul 5, 2020 06:07 pm

Jul 5, 2020

ridelog
1 badges

Jul 5, 2020 02:07 pm

Jul 5, 2020

ridelog
2 badges

Jul 5, 2020 09:07 am

Jul 5, 2020

ridelog
1 badges

Jul 5, 2020 09:07 am

Jul 5, 2020

ridelog
1 badges

Jul 5, 2020 07:07 am

Jul 5, 2020

ridelog
1 badges

Jul 5, 2020 07:07 am

Jul 5, 2020

ridelog
1 badges

Jul 5, 2020 04:07 am

Jul 5, 2020

ridelog
3 badges

Jul 5, 2020 04:07 am

Jul 5, 2020

ridelog
4 badges

Jul 4, 2020 11:07 pm

Jul 4, 2020

ridelog
2 badges

Jul 4, 2020 10:07 pm

Jul 4, 2020

ridelog
1 badges

Jul 4, 2020 08:07 pm

Jul 4, 2020

ridelog
1 badges

Jul 4, 2020 08:07 pm

Jul 4, 2020

ridelog
1 badges

Jul 4, 2020 07:07 pm

Jul 4, 2020

ridelog
1 badges

Jul 4, 2020 07:07 pm

Jul 4, 2020

ridelog
1 badges

Jul 4, 2020 06:07 pm

Jul 4, 2020

ridelog
1 badges

Jul 4, 2020 06:07 pm

Jul 4, 2020

ridelog
1 badges

Jul 4, 2020 06:07 pm

Jul 4, 2020

ridelog
1 badges

Jul 4, 2020 06:07 pm

Jul 4, 2020

ridelog
1 badges

Jul 4, 2020 06:07 pm

Jul 4, 2020

ridelog
1 badges

Jul 4, 2020 05:07 pm

Jul 4, 2020

ridelog
2 badges

Jul 4, 2020 05:07 pm

Jul 4, 2020

ridelog
1 badges

Jul 4, 2020 04:07 pm

Jul 4, 2020

ridelog
1 badges

Jul 4, 2020 04:07 pm

Jul 4, 2020

ridelog
1 badges

Jul 4, 2020 04:07 pm

Jul 4, 2020

ridelog
1 badges

Jul 4, 2020 04:07 pm

Jul 4, 2020

ridelog
1 badges

Jul 4, 2020 04:07 pm

Jul 4, 2020

ridelog
1 badges

Jul 4, 2020 04:07 pm

Jul 4, 2020

ridelog
1 badges

Jul 4, 2020 04:07 pm

Jul 4, 2020

ridelog
1 badges

Jul 4, 2020 04:07 pm

Jul 4, 2020

ridelog
1 badges

Jul 4, 2020 03:07 pm

Jul 4, 2020

ridelog
2 badges

Jul 4, 2020 03:07 pm

Jul 4, 2020

ridelog
1 badges

Jul 4, 2020 02:07 pm

Jul 4, 2020

ridelog
1 badges

Jul 4, 2020 02:07 pm

Jul 4, 2020

ridelog
1 badges