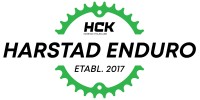 Phone
+4790180064
Geo
Address

Harstad

9405

Norway

Associated Group
Harstad Cykleklubb (HCK) is the local cycling club in Harstad. It has active groups in different disciplines such as road bicycle racing, triathlon, MTB and Enduro. It has a strong focus on both the kids, youth and senior segments. HCK Harstad Enduro is a sub division of Harstad Cykleklubb and focus on promoting this sport locally, organize local events, as well as developing and maintaining trails in the surrounding areas of Harstad.
Past Events
Review HCK Harstad Enduro
No reviews yet, be the first to write a review!
Earn Trail Karma by Donating to the Local Trail Association
help fund trail maintenance and development
Donate