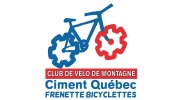 Geo
Address

Portneuf

,

Quebec

Canada
Le Club de vélo de montagne Ciment Québec Frenette Bicyclettes a vu le jour en 2014.

Le club est accrédité dans la catégorie compétitif de la Fédération québécoise des sports cyclistes (FQSC).

Les activités ont lieu les jeudis soirs à 18h30 ainsi que les dimanches matins à 9h30 au Centre Nature de St-Basile.

Le principal objectif du club est de permettre aux jeunes de découvrir le vélo de montagne. Nos activités se déroulent dans une ambiance familiale et décontractée.

Le port du casque est obligatoire lors des activités pour tous les participants.

Les enfants de 10 ans et moins doivent être accompagnés d'un adulte lors des sorties. Il n'y a pas de minimum d'âge, vous êtes cependant responsable d'accompagner vos enfants de moins de 10 ans.
Review Le Club de Vélo de...
No reviews yet, be the first to write a review!