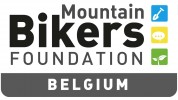 Geo
Address

5170

Namur

5170

Belgium
MBF-Belgium is a small and young assosiation who has 3 goals :

-Preserve trails acces to all mountain bikers (the bikes are just tolerated in the belgian's woods)
- Raise awareness about respect for nature and other users.
- Develop the practice in a sustainable and responsible way to ensure its future.

We work in collaboration with MBF France and IMBA Europe.
Review Mountain Bikers...
No reviews yet, be the first to write a review!
Earn Trail Karma by Donating to the Local Trail Association
help fund trail maintenance and development
Donate