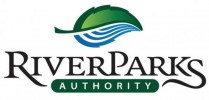 Type
Trail Association
Primary Activity

Hike

Other

Mountain Bike

Trail Running

Website
Phone
918.596.2001
Geo
Address

2424 E. 21st St., Suite 300

Tulsa

,

Oklahoma

74114

United States
Trails are the heart and soul of River Parks, the defining feature weaving together the public spaces that comprise Tulsa's outdoor riverfront park system, with connections to other regional trails. Most of River Parks' east bank trails, covering nine miles from 11th Street near downtown Tulsa, south to 101st Street, feature pedestrian and cycling lanes separated by a median. Connections to other regional trails are found at 96th and Riverside, where trail users can leave River Parks and travel west, crossing the river to Jenks, or east, connecting to the Creek Turnpike Trail which extends to Broken Arrow. The Creek Trail crosses major traffic arterials at several locations.
Review River Parks Foundation
No reviews yet, be the first to write a review!
Earn Trail Karma by Donating to the Local Trail Association
help fund trail maintenance and development
Donate
Recent Donations
username
amount
date
Jokersm

$5

USD
Mar 5, 2019