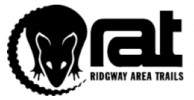 Geo
Address

Ridgway

,

Colorado

81432

United States
If you have lived in Ouray County for any length of time, and you are a trail user, you will have noticed that there is not a lot to offer in the way of quality back-country trails. At least not as far as good single track goes. To a mountain biker, hiker, horse rider or moto rider, singletrack exemplifies the highest quality riding experience.

In 2004, Richard Durnan, searching for quality riding experiences, approached the Ridgway State Park and the Bureau of Land Management (BLM) with a proposal to develop a multi-use trail system on the adjoining parcels of land these agencies manage. Identifying this land, which resides on the outskirts of the Town of Ridgway, as having ideal terrain, trail connectivity, and access, the process of obtaining permission for this project began.

The goal of the project is to develop a well-designed, sustainable, trail system that will enhance the quality of recreation in Ouray County. Although mountain bikers may be heading this project, it is not just for bikers. It is intended that this trail system be available to a variety of users.

Development of a multi-use trail system will enhance the lives of not only the residents of Colorado's Western Slope, but the numerous annual visitors from outside the region. This enhancement will come not only in the form of higher quality recreational opportunities, but will also increase the areas already growing tourism industry.

At this time, the process is well under way. In the mean time, there is a wealth of good single and double track trails available to choose from within the area now. Get out there and ride the RAT!
Review COPMOBA - Ridgway Area...
No reviews yet, be the first to write a review!
Earn Trail Karma by Donating to the Local Trail Association
help fund trail maintenance and development
Donate