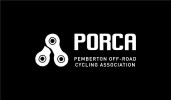 Geo
Address

Pemberton

,

British Columbia

V0N

Canada
== COVID-19 in Pemberton ==
Pemberton is a small, rural community with limited resources and medical capacity. We urge you to stay home or ride in your own communities.

Mountain biking rarely involves life or death decisions. In the current pandemic we must realize that we make life or death choices daily.

Not taking social distancing seriously means choosing death. It may not be your death, but it will be someone you know or a friend of a friend, or a relative. You get the picture.

Please, please:
- Pedal solo
- Pedal with friends at a two meter distance
- Commute only with members of your household
- Ride well below your limits
- Ride in your home community. Do not travel.

Stay safe, keep your distance, wash your hands, and ride with care.

===

Pemberton Off Road Cycling Association is a non-profit mountain bike association focused on trails and events in the Pemberton, BC region.
Past Events
Earn Trail Karma by Donating to the Local Trail Association
help fund trail maintenance and development
Donate