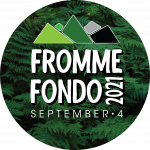 Badge no longer active!
Description
The Fromme Fondo has returned again for 2021!

The goal is simple, ride as many different trails as you can in a single ride on September 4th. Riding at least 10 trails unlocks the badge but the more trails you ride, the higher you'll rank in the leaderboard!

Follow the leaderboard here: https://www.trailforks.com/contests/frommefondo2021/

Everyone who unlocks the badge can claim a limited edition vinyl sticker. The top 10 riders on the leaderboard will be entered to win some awesome prizes.

Looking to up the stakes a bit more? Support your local builders and advocates by getting your friends and family to pledge to donate a certain $ amount for every unique trail you ride (ex. $2 per trail)! The more trails your ride, the more gets donated to the NSMBA!

Check out past Leaderboards: 2020, 2019, 2018

In order to unlock this badge, you must log your ride on the Trailforks app, or sync your ride from Strava.

If you have logged a ride and Trailforks is not picking up that you rode a certain trail(s), you can correct it by following the steps in this video: https://www.trailforks.com/help/view/115/.
Criteria
Activity

Single Ride

YES

Start Date

Saturday September 4, 2021

End Date

Saturday September 4, 2021

Trail Count

10
Other Info
Participants

Awarded

88

Female: 10
Male: 56
Unknown: 22

Points

1

Featured
Badge Awarded To
time
username
ridelog

Sep 5, 2021 06:09 pm

Sep 5, 2021

ridelog

Sep 5, 2021 04:09 am

Sep 5, 2021

ridelog

Sep 5, 2021 03:09 am

Sep 5, 2021

ridelog

Sep 5, 2021 03:09 am

Sep 5, 2021

ridelog

Sep 5, 2021 02:09 am

Sep 5, 2021

ridelog

Sep 5, 2021 01:09 am

Sep 5, 2021

ridelog

Sep 5, 2021 01:09 am

Sep 5, 2021

ridelog

Sep 5, 2021 12:09 am

Sep 5, 2021

ridelog

Sep 4, 2021 11:09 pm

Sep 4, 2021

ridelog

Sep 4, 2021 10:09 pm

Sep 4, 2021

ridelog

Sep 4, 2021 10:09 pm

Sep 4, 2021

ridelog

Sep 4, 2021 10:09 pm

Sep 4, 2021

ridelog

Sep 4, 2021 09:09 pm

Sep 4, 2021

ridelog

Sep 4, 2021 09:09 pm

Sep 4, 2021

ridelog

Sep 4, 2021 09:09 pm

Sep 4, 2021

ridelog

Sep 4, 2021 08:09 pm

Sep 4, 2021

ridelog

Sep 4, 2021 08:09 pm

Sep 4, 2021

ridelog

Sep 4, 2021 07:09 pm

Sep 4, 2021

ridelog

Sep 4, 2021 07:09 pm

Sep 4, 2021

ridelog

Sep 4, 2021 07:09 pm

Sep 4, 2021

ridelog

Sep 4, 2021 06:09 pm

Sep 4, 2021

ridelog

Sep 4, 2021 06:09 pm

Sep 4, 2021

ridelog

Sep 4, 2021 06:09 pm

Sep 4, 2021

ridelog

Sep 4, 2021 05:09 pm

Sep 4, 2021

ridelog

Sep 4, 2021 05:09 pm

Sep 4, 2021

ridelog

Sep 4, 2021 05:09 pm

Sep 4, 2021

ridelog

Sep 4, 2021 05:09 pm

Sep 4, 2021

ridelog

Sep 4, 2021 05:09 pm

Sep 4, 2021

ridelog

Sep 4, 2021 05:09 pm

Sep 4, 2021

ridelog

Sep 4, 2021 04:09 pm

Sep 4, 2021

ridelog

Sep 4, 2021 04:09 pm

Sep 4, 2021

ridelog

Sep 4, 2021 04:09 pm

Sep 4, 2021

ridelog

Sep 4, 2021 04:09 pm

Sep 4, 2021

ridelog

Sep 4, 2021 04:09 pm

Sep 4, 2021

ridelog

Sep 4, 2021 04:09 pm

Sep 4, 2021

ridelog

Sep 4, 2021 04:09 pm

Sep 4, 2021

ridelog

Sep 4, 2021 03:09 pm

Sep 4, 2021

ridelog

Sep 4, 2021 03:09 pm

Sep 4, 2021

ridelog

Sep 4, 2021 03:09 pm

Sep 4, 2021

ridelog

Sep 4, 2021 03:09 pm

Sep 4, 2021

ridelog

Sep 4, 2021 03:09 pm

Sep 4, 2021

ridelog

Sep 4, 2021 03:09 pm

Sep 4, 2021

ridelog

Sep 4, 2021 03:09 pm

Sep 4, 2021

ridelog

Sep 4, 2021 03:09 pm

Sep 4, 2021

ridelog

Sep 4, 2021 03:09 pm

Sep 4, 2021

ridelog

Sep 4, 2021 03:09 pm

Sep 4, 2021

ridelog

Sep 4, 2021 02:09 pm

Sep 4, 2021

ridelog

Sep 4, 2021 02:09 pm

Sep 4, 2021

ridelog

Sep 4, 2021 02:09 pm

Sep 4, 2021

ridelog

Sep 4, 2021 02:09 pm

Sep 4, 2021

ridelog