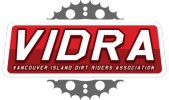 Geo
Address

British Columbia

Canada

Associated Groups

VIDRA

Vancouver Island Dirt Riders Association
The Vancouver Island Dirt Riders Association (VIDRA) supports the growth and sustainability of off-road dirtbiking for racers and recreational riders on Vancouver Island, British Columbia.

VIDRA maintains land stewardship of three off-road recreation areas on the island: Whiskey Creek, Cook Creek, and Tansky. As part of this focus, the association advocates responsible trail-building and trail usage. VIDRA does not support unsanctioned trail riding or adding unsanctioned trails to Trailforks. As well, VIDRA hosts the Vancouver Island Hare Scramble Series for enduro & hare scramble style dirtbike racing.
Review Vancouver Island Dirt...
No reviews yet, be the first to write a review!
Earn Trail Karma by Donating to the Local Trail Association
help fund trail maintenance and development
Donate