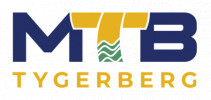 Phone
+27 79 693 3177
Geo
Address

Tygerberg Valley Road

Durbanville

7530

South Africa
Welcome to the Tygerberg Mountain Bike Club, the home of arguably the largest mountain bike club in the world. Established in the mid 1990's the club has grown to one of the largest in the country. Women, children, pensioners, students, weekend warriors and race snakes, all up our 3800+ members.

Come and explore our wonderful trail network of over 150km of pristine trails, cut into the indigenous renosterveld across 15 beautiful farms in the majestic Durbanville Hills area, just 15 minutes' drive north of Cape Town. Our trails cater for all forms of mountain biking, from a relaxed social ride with your family or mates, to our XCM, XCO and Enduro specific built trails and routes, that cater for all levels of skill and fitness.

Add to this the splendour of the wine farms that our trails are built on with their numerous restaurants, wine tasting rooms and facilities located in the sheer beauty of the Durbanville Hills area, you are guaranteed a world class experience both on and off your bike when mountain biking on our trails…

Trail Access between Sunrise and Sunset only. (Except the Traverse Corridor which closes at 17h30)

Membership
As a member of Tygerberg Mountain Bike Club, with a valid bike board fixed to your handlebars, you are allowed to ride the trails of Bloemendal, Hillcrest, Contermanskloof, Hoogekraal, Welvergenoegd, Faircape, Meerendal, Majik Forest and all the linking corridors.

If you are not a member of Tygerberg Mountain Bike Club, you can purchase a separate Day Permit for any or each of the ride areas mentioned above. Follow the Membership link above for more information on the Day Permits for each of the Ride Areas.
Review Tygerberg Mountain Bike Club
No reviews yet, be the first to write a review!
Earn Trail Karma by Donating to the Local Trail Association
help fund trail maintenance and development
Donate