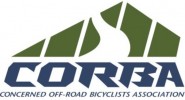 Geo
Address

California

United States
Concerned Off-Road Bicyclists Association was founded in 1987 to serve the mountain bicycling community of Los Angeles and surrounding areas including southern Ventura County. CORBA is a 501(c)(3) non-profit organization committed to gaining and maintaining public trail access for mountain cyclists and the public at-large. CORBA encourages and promotes the safe and environmentally responsible use of unpaved roads and trails for bicycling and to educate the public about all aspects of off-road cycling and trails.
Review Concerned Off-Road...
No reviews yet, be the first to write a review!
Earn Trail Karma by Donating to the Local Trail Association
help fund trail maintenance and development
Donate