What do I get with Trailforks Pro?
Trailforks Pro provides you access to all trails and features that Trailforks offers everywhere. If you travel or ride outside your local riding area you will need Trailforks Pro to explore and navigate the trails fully within the app. There are also select current and future features that will be Pro only.
To be clear, the website and access to maps and trail data remains free on the website. Only the map outside your free area in the Trailforks app will be greyed out unless you become a PRO subscriber.
Some niche features on the website like Garmin basemaps become a Pro only. We are excited to have more resources in the future for many new features, some of which will be Pro only. But the website will remain largely unchanged and a lot of the apps functionalty still works as a free user.
How do I get Trailforks Pro with my Outside+ Subscription?
If you have an Outside+ subscription, Trailforks Pro included in your membership! You must login to Trailforks with the same email as your Outside account.
Is there a free version?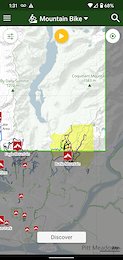 Trailforks app is still free in your user customizable free area. Within this area all trails are fully accessible for free.
The app will choose your free area automatically but you can adjust this area once to your choice. The free area is a square of 60km (38 mile) sides, which equals to 3600 square kilometers (1400 square miles). This area can be positioned anywhere you like and does NOT have to be centered where you live. It's intended to encompass your most used riding area even if that area is far away from where you live.
Many other functions of the app also remain free. Such as checking trail status, reports, events, contests, badges & your personal Ridelog recording & viewing.
The trail map is only restricted in the Trailforks APP, the website maps remain free and open. Learn more about how you can use Trailforks for free.
Can I try Trailforks Pro for Free?
YES! When a user first installs the app, everything is fully unlocked as if they were a Pro subscriber. Each user gets 14 days in trial mode before the map locks and they must choose their free unlocked area or subscribe to Pro.
Can I still record my rides?
YES! Ride/activity tracking still works with the free version anywhere in the world. You can also view your own rides in any region.
Can I still view race course routes?
YES! Race organizers and participants can still load race course routes on the map, even on the free version of the app.
Can I still earn badges and participate in contests?
YES! A Pro subscription is NOT required to record your ride and earn badges or participate in contests.
Can I still view & post trail conditions/status?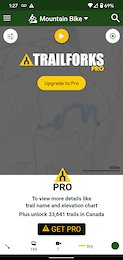 YES! Users with the free version can still view and post the trail reports with status and conditions of the trails, even in areas outside their free area. We made the trail status, conditions and viewing of reports free and open worldwide, regardless of your free area or Pro subscription status.
How do I choose my free unlocked area?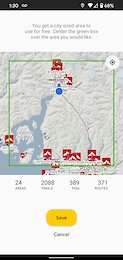 Your free area is chosen by the system when you turn Trailforks on for the first time. You can move this if required once in case the system made a mistake.
Why is Trailforks not free anymore in all areas?
For five years the Trailforks team has designed, developed, supported, and hosted these features and tools on their very own dedicated servers. Trailforks has provided this all while keeping the website and app 100% free from advertising, something we pride ourselves on and plan to continue doing long into the future.
At Trailforks we have been adding both significant features and users over the last five years and we have grown to a level that requires a contribution from our user base so we can continue to make Trailforks great. With our payment model we have tried to strike a balance between free access and payment. Competing apps in other sports outside our mountain biking roots all charge for use of their full apps, for us to compete at the same level, we need a revenue source. With the revenue from Trailforks PRO, we will be able to hire more staff which will allow us to create a better product, better support, and more features geared towards mapping and trail management.
We'd love for it to be free for everyone always, but it just wasn't possible. We've tried to come up with the best system we can to balance everyone's needs. The website and the tools for the associations remain free; most users can just use their free area, and for those that travel, need advanced features or want to support us, they can join Trailforks Pro and have access everywhere.
We also want to make Trailforks better and have many new features planned that we would like to create more quickly. By becoming a paid Pro member of Trailforks you will allow us to do this and support our current riders and associations better and build new features requested by users and associations.
Can I still use the map in free mode, what if I'm lost?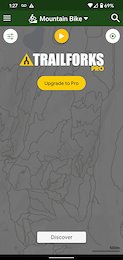 If you're outside your free area the map and trails are greyed out as you zoom in closer, but still visible. The trails are still draw on the map, they are just greyed out with minimal info besides trail condition and status on the info popup. The full trail detail page is unchanged, so you can still view descriptions, photos and reports.
What if I have an emergency?
The Trailforks app has an emergency page, where you can call the local emergency services from and get your current location for dispatch. There is now also a button on this page that when clicked will unlock the map temporarily (6 hours), incase you have to do some emergency navigation. However you can only emergency unlock the map 3 TIMES! So please only use in case of actual emergency.
Are there discount codes available for industry?
Unfortunately, given that there are so many riders that participate in the industry we have decided to not offer industry specific pricing that requires complicated approvals.
How can I pay?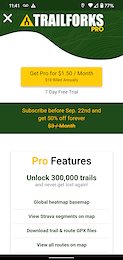 You can either pay directly on the Trailforks website, through the Apple App Store or Google Play.
Can I use multiple devices with the same Pro subscription
Yes! If you login with your subscription so it's associated with a Trailforks account, you can login to the app on multiple devices and have access to your Pro subscription on upto 5 of your own devices.
Are website widgets still free?
YES! The website is still free along with embeddable website widgets which many trail associations use on their websites.
How does this effect my Garmin Edge 530/830 integration or Garmin basemaps?
The Trailforks features and basemap integrated into some Garmin units like the 530 and 830 are uneffected, you do not need Trailforks Pro for those to continue to function.
If you have downloaded a custom Trailforks Garmin basemap it will continue to work. Going forward to download new maps, that requires a Pro subscription. But you can download as many regions and updates as you need.
Is Trailforks free for trail associations?
Non-profit trail association board of directors that are setup as local region admins on Trailforks can get a free Trailforks Pro subscription. Only 5 free active subscriptions per trail association are allowed. You also must have at least 10 Trailforks contribute points, meaning you have helped contribute some data to the platform.
All the great tools, data & widgets are still available for free on the website for trail association usage.
Local admins apply for free subscription here