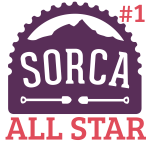 Description
For the 2021 SORCA socials we can't get together like in previous years, but we're encouraging you to get out and ride some trails with your core bubble. We'll also be celebrating the all-stars trail in our network, the crowd-pleasers that everyone adores; and we'll be shining a light on underdogs, the less appreciated gems of our network. Every two weeks we'll announce one popular trail (the all-star) and one less popular trail (the underdog). Ride either one, or both, within the two week period, log your ride on Trailforks, and you'll get a badge (two badges if you ride both). At the end of the season each badge you have will get you a chance to win fabulous prizes. (Only SORCA members are eligible for prizes, so make sure you grab a membership at https://sorca.ca/join)

The first all-star trail is Half Nelson. It's world famous. It had some work done over the winter. Go out and ride those iconic berms.

How to log your ride on Trailforks using their app: https://www.trailforks.com/help/view/88/
If you'd rather not use Trailforks, you can email your name and a photo of yourself riding the trail to socials@sorca.ca and you'll get a chance to win prizes. (SORCA members only).

Track your progress here.
Criteria
Activity

Start Date

Wednesday April 28, 2021

End Date

Wednesday May 12, 2021

Ride Trails
Other Info
Participants

Awarded

186

Contest Awarded

25

Points

1
This badge is connected to a contest.
Badge Awarded To
time
username
ridelog

May 16, 2021 10:05 pm

May 16, 2021

ridelog

May 16, 2021 03:05 pm

May 16, 2021

ridelog

May 14, 2021 12:05 pm

May 14, 2021

ridelog

May 12, 2021 09:05 am

May 12, 2021

ridelog

May 11, 2021 08:05 pm

May 11, 2021

ridelog

May 11, 2021 02:05 pm

May 11, 2021

ridelog

May 11, 2021 02:05 pm

May 11, 2021

ridelog

May 11, 2021 02:05 pm

May 11, 2021

ridelog

May 11, 2021 01:05 pm

May 11, 2021

ridelog

May 11, 2021 07:05 am

May 11, 2021

ridelog

May 10, 2021 07:05 pm

May 10, 2021

ridelog

May 10, 2021 06:05 pm

May 10, 2021

ridelog

May 10, 2021 06:05 pm

May 10, 2021

ridelog

May 10, 2021 06:05 pm

May 10, 2021

ridelog

May 10, 2021 06:05 pm

May 10, 2021

ridelog

May 10, 2021 05:05 pm

May 10, 2021

ridelog

May 10, 2021 02:05 pm

May 10, 2021

ridelog

May 10, 2021 01:05 pm

May 10, 2021

ridelog

May 10, 2021 12:05 pm

May 10, 2021

ridelog

May 10, 2021 08:05 am

May 10, 2021

ridelog

May 9, 2021 09:05 pm

May 9, 2021

ridelog

May 9, 2021 06:05 pm

May 9, 2021

ridelog

May 9, 2021 06:05 pm

May 9, 2021

ridelog

May 9, 2021 06:05 pm

May 9, 2021

ridelog

May 9, 2021 06:05 pm

May 9, 2021

ridelog

May 9, 2021 06:05 pm

May 9, 2021

ridelog

May 9, 2021 06:05 pm

May 9, 2021

ridelog

May 9, 2021 06:05 pm

May 9, 2021

ridelog

May 9, 2021 05:05 pm

May 9, 2021

ridelog

May 9, 2021 04:05 pm

May 9, 2021

ridelog

May 9, 2021 04:05 pm

May 9, 2021

ridelog

May 9, 2021 03:05 pm

May 9, 2021

ridelog

May 9, 2021 03:05 pm

May 9, 2021

ridelog

May 9, 2021 03:05 pm

May 9, 2021

ridelog

May 9, 2021 02:05 pm

May 9, 2021

ridelog

May 9, 2021 02:05 pm

May 9, 2021

ridelog

May 9, 2021 02:05 pm

May 9, 2021

ridelog

May 9, 2021 01:05 pm

May 9, 2021

ridelog

May 9, 2021 01:05 pm

May 9, 2021

ridelog

May 9, 2021 12:05 pm

May 9, 2021

ridelog

May 9, 2021 10:05 am

May 9, 2021

ridelog

May 9, 2021 04:05 am

May 9, 2021

ridelog

May 8, 2021 09:05 pm

May 8, 2021

ridelog

May 8, 2021 08:05 pm

May 8, 2021

ridelog

May 8, 2021 08:05 pm

May 8, 2021

ridelog

May 8, 2021 07:05 pm

May 8, 2021

ridelog

May 8, 2021 07:05 pm

May 8, 2021

ridelog

May 8, 2021 06:05 pm

May 8, 2021

ridelog

May 8, 2021 06:05 pm

May 8, 2021

ridelog

May 8, 2021 05:05 pm

May 8, 2021

ridelog