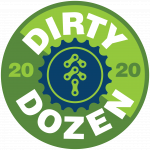 Description
Welcome to the 2020 Dirty Dozen challenge!

Evergreen Mountain Bike Alliance is focused on making Washington great for mountain biking, and we want to share some of the best with you. We have created a list of trails built and maintained by Evergreen Mountain Bike Alliance volunteers, and professional builders.

We aren't making any claims as to these being the best trails in each of our chapters, but they are definitely must ride trails if you are visiting. Check it out, and plan your road trip to hit all of these great trails around our state!

Challenge ends Dec 31, 2020. You have time to make a plan, be safe and have fun! We will roll out another Dirty Dozen for you to explore in 2021!
Criteria
Activity

Start Date

Monday June 1, 2020

Ride Trails
Other Info
Participants

Awarded

Points

5

Featured
time
username
ridelog

Oct 31, 2020 01:10 pm

Oct 31, 2020

ridelog