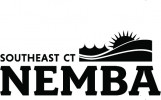 Geo
Address

New London

,

Connecticut

United States

Associated Groups

SECT

Southeastern Connecticut

SECT NEMBA

Southeastern Connecticut NEMBA - Official Reporter
SE CT NEMBA chapter was formed in 2014 to work closely with the local land managers, schools, and businesses to support, promote and increase mountain biking activities and trail stewardship from the New London area to the Rhode Island border.

The chapter will hold riding and trail care events at Bluff Point State Park, Rocky Neck State Park, Hartman Park and other locations.

Come ride with us and help make mountain biking even better in our area.
Review Southeastern Connecticut...
No reviews yet, be the first to write a review!
Earn Trail Karma by Donating to the Local Trail Association
help fund trail maintenance and development
Donate