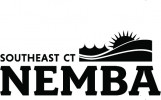 Geo
Address

New London

,

Connecticut

United States

Associated Group

SECT NEMBA

Southeast Connecticut NEMBA - Regional Admin Group
Southeast Connecticut local chapter of the New England Mountain Bike Association (NEMBA). The chapter leads group rides, hosts trail-work events, and advocates for mountain biking in Southeast CT.

NEMBA has 33 chapters and more than 8000 members throughout New England. Our mission is to promote responsible mountain biking and to protect and preserve New England trails and open spaces.
Review Southeast Connecticut NEMBA
No reviews yet, be the first to write a review!
Earn Trail Karma by Donating to the Local Trail Association
help fund trail maintenance and development
Donate
Your donation supports Southeast CT NEMBA's advocacy efforts around the region. Supporting NEMBA will make a difference in improving mountain biking in Connecticut!!