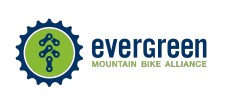 Phone
(206) 524-2900
Geo
Address

438 NE 72nd Street Seattle, WA 98115

Washington

98115

United States
Evergreen is a nonprofit organization here to serve mountain bikers in Washington State. We offer free group rides, build trails, build mountain bike parks, do a ton of volunteer trail maintenance work, offer skills classes, and advocate to protect and create mountain biking opportunities.

We are quickly growing, and would like you to be part of our group, and help us bring you more trails to ride!
Past Events
Earn Trail Karma by Donating to the Local Trail Association
help fund trail maintenance and development
Donate